To support the artists from the local university and from the tropical south, we invited two artists to be part of this conference. While Arison made for us paintings to be given to the best presenters, Anna designed the conference bags. In case you fall in love with their art work, similalry as we do, feel free to contact them directly and order your piece.
Arison Kul
https://www.facebook.com/arisonkay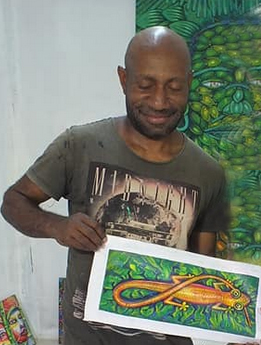 Arison (or Akul) is a self-taught artist from PNG. Arison who resides in Lae, found his artistic talents through necessity in 2003. When life was not going as planned, he decided to occupy his time through art. Originally selling on the streets of Lae, around business houses and busy intersections. Arison is grateful that his switch to Facebook sales has eased his life quite considerably.
When Arison describes himself as a self-taught artist, he reflects that he learnt by looking through art books in the second-hand bookshops. He soon found that his work was being bought by foreigners residing in Lae, as well as local residents. Arison´s art has reached places as far as the US, Europe and here in Australia. He draws his inspiration from fellow PNG artists, in particular Jeffrey Feegar for his style and use of colour, and Laben Sakale for his overall style. Arison also tributes his inspiration to the "Old Masters" Salvador Dali & Picasso.
For the conference, Arison drew several paintings which will be given to winners in the competitions for the best talks and best posters.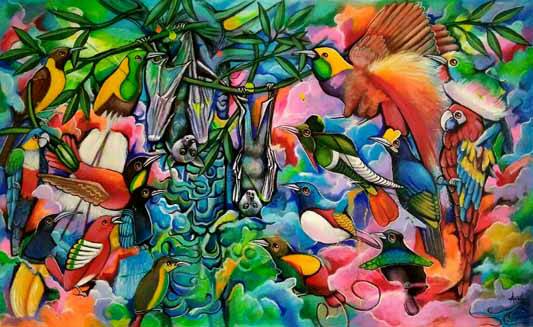 ---
Anna Vosolsobě
Anna is an artist from Czech Republic. Since childhood, she loved both painting and nature. During high school, she completed some courses of drawing and painting. After that, she decided to study zoology at University of South Bohemia in Ceske Budejovice. After graduation and changing several jobs, she decided to focus on art more. And this lasts until today. She likes to paint animals (especially animal puns and little jokes) and anything connected with nature. Nature is her biggest source of inspiration. She made various illustrations for both institutions and individuals in the Czech Republic. In past years, she published two picture books of animal puns.
She designed the conference bags for our conference and her drawing is used on all promotion objects of Faculty of Science in Ceske Budejovice.
https://www.facebook.com/anna.elexhauserova